Stratostorm's Original Animated Short UMBRELLA Selected For Tribeca Film Festival and Cinequest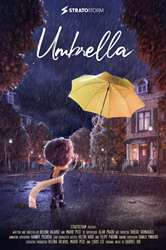 We are so thankful to the film festivals programers and directors for watching our submission and selecting our project among thousands of others, and also for supporting independent filmmakers. We are thrilled!

LOS ANGELES (PRWEB)
March 06, 2020
Animation house Stratostorm's original animated short UMBRELLA has been selected to be screened at two prestigious events, CINEQUEST in Silicon Valley and at the Tribeca Film Festival in Manhattan as part of Animated Shorts Program curated By Whoopi Goldberg. The homage to empathy and kindness will be shown in Redwood City and San Jose on March 12, 13 and 15. and at Tribeca in New York City starting in mid April. The film was written and directed by storytellers Helena Hilario and Mario Pece. See the teaser at https://vimeo.com/370931306
"We are honored and humbled to have our first beloved animated short film selected to screen at such a prestigious film festivals," says Hilario. "We are so thankful to the film festivals programers and directors for watching our submission and selecting our project among thousands of others, and also for supporting independent filmmakers. It´s a dream for our directorial debut to present our work in front a wide audience and among many other great films. We are thrilled!"
Tribeca Film Festival is considered one of the most prestigious and prominent film festivals in the world. Founded twenty years ago by Jane Rosenthal and actor Robert De Niro,Tribeca has become the recognized outlet for independent filmmakers from around the world.
Set in Silicon Valley, Cinequest was voted Best Film Festival by USA Today Readers. Cinequest fuses innovation with the Arts to empower great creations and to connect audiences, youth, artists and innovators with each other. It achieves its mission through the CInequest Film & Creativity Festival and Picture The Possibilities global youth programs.
Stratostorm's UMBRELLA follows the story of Joseph, a boy who lives in an orphanage and dreams of having a yellow umbrella.
"The story is inspired by heartbreaking true events," says Executive Producer and Director Helena Hilario, who co-founded Stratostorm five years ago with CEO/Creative Director Mario Pece. "The message of the film is empathy for others," says Hilario. "That one can make a huge difference in the lives of others by just being kind. We never know what others are going through or what they may be struggling with. Every shot in UMBRELLA is very emotional for us; every color and texture and every character is inspired by someone or something in our lives. The Stratostorm team loved the story, because our main character never turns negative on the world or his life. Through the story, we find out why a simple yellow umbrella holds a lifelong fascination for him."
According to Hilario, her small but resourceful animation team took 20 months to bring UMBRELLA to life, but in reality the project took a total of eight years from ideation to completion.
"We wanted to do this film, not just for Stratostorm, but to spotlight the highest level of craft and execution," says Hilario. We hope UMBRELLA shows that great, animated storytelling now originates outside the mainstream, with some of the best talent found at Stratostorm."
The Team

Character design of Joseph and six supporting characters was completed by award-winning 3D artist Victor Hugo (Moana, Disney, Marvel). Danilo Pinheiro executed rigging while Hannry Pschera supervised the animation. Stratostorm's team included supervisor Alan Prado, art director Dhiego Guimaraes and character designer Felipe Pardini.
Heartstrings

Key to evoking complex emotions of empathy, forgiveness and kindness is the original music score by Gabriel Dib (McFarland, Drumline, Criminal Minds). "What Gabriel did for the film is amazing," says Hilario. The music had to be perfect to quickly establish an authentic connection between Joseph and the audience." Through the music, viewers share his sense of abandonment." Dib completed the score, which was handed off to conductor Peter Rotter (Avatar, Deadpool, Frozen) for recording a full orchestral track at Capitol Studios in Hollywood. Luis Augusto and Vivian Aguiar Buff produced the final track, while audio post was headed up by James Tose with Blue Infinity Media handling re-recording. Colorist was Charles Bunnag (Avengers End Game, The Lion King, Guardians of Galaxy). Executive Producer was Louis Lee.
About Stratostorm:

Stratostorm is about passion, craft and amazing collaboration. We are an independently owned creative studio specializing in 3D and 2D animation and original content for film, television and advertising. Stratostorm was founded in 2014 to advance the craft of animation storytelling. Our staff is a talented team made up of visual artists, designers, animators, writers and producers, executing at the highest level. Our company is located in Sao Paulo, Brazil with studios in Los Angeles.
Share article on social media or email: