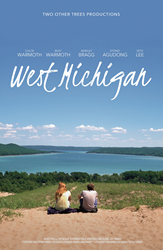 The film is "an exploration, in a very realistic sense, of external factors that lead to depression and the crucial importance of relationships in minimizing those effects." – Chloe Ray Warmoth

BURBANK, Calif. (PRWEB)
February 11, 2021
Director Riley Warmoth and his sister, actress Chloe Ray Warmoth (Fuller House, Trevor and the Virgin), after spending four years in Los Angeles, returned to Michigan to film a love letter to the Mitten State. Shot entirely within the state, and utilizing both Michigan and Los Angeles talent, they were able to tell the story of a young person's search for meaning and to explore the complexities of sibling relationships. West Michigan, inking a distribution deal with Freestyle Digital Media, will be available for streaming nationwide on Amazon and iTunes beginning 4/13/2021.
Chloe stars as Hannah, a seventeen-year-old girl who struggles to find her place in the world. Around the time that she gives up all hope of fitting in, her grandfather falls ill. She and her brother Charlie drive up the coast of West Michigan in order to visit him on his deathbed. However, their journey north takes a turn after their car breaks down in rural Michigan, and Hannah's search for meaning grows more crucial than ever.
Chloe notes that the film "is an exploration, in a very realistic sense, of external factors that lead to depression and the crucial importance of relationships in minimizing those effects." "Many young adults will identify with her character and hopefully feel less alone through her journey."
The cinematography and soundtrack explore themes of beauty, heartbreak, and nature. In regards to music choices, Riley relays that he "chose music that is ethereal and meditative, because meditation is what a search for meaning ultimately involves."
Seth Lee (The Accountant) stars as Hannah's aloof yet suave romantic interest. He embodies that romantic ideal that one often thinks will provide contentment in life.
Sydney Agudong and Berkley Bragg help bolster the movie with timely comedic relief. Their portrayals encompass the broader ranges of peer dynamics that make this journey challenging.
Ultimately, the movie is revelatory in exploring our relationships with others and, more importantly, ourselves.
Website: https://www.westmichiganmovie.com/

Theatrical Trailer: https://www.youtube.com/watch?v=wWmIjP1XkUg&feature=youtu.be
Contact Info

Renee Story

Two Other Trees Productions

[email protected]

(616) 402-2032
Share article on social media or email: